I have found myself fascinated with heirloom tomatoes this year... well just tomatoes in general have captured my attention, but heirlooms that much more. I think my interest in heirlooms started while I was browsing through the online catalog at
Seed Savers Exchange
. They are all about preserving diversity in our food supply and promoting the saving and sharing of heirloom seeds. Much of the seed I have bought in the last year has been from them with even more seeds on my wish list for the future.
Why I have become interested in tomatoes, I'm not sure. I don't even like eating tomatoes raw, just in things like sauce and salsa. Last year I had only one tomato plant and I don't even know what variety it was as my husband brought it home from some big box store in a large pot. It stayed in that large pot and produced enough tomatoes for some salsa, but I didn't do anything else with it. I really, really liked the fresh salsa I was able to make however, and decided to plant more tomatoes this year.
I started out with a couple Early Girls and a Sweet Millions (both hybrids), then moved on to
The Garden
, a local organic nursery that suffered a devestating fire last year and was hosting a tomato mania as a way to celebrate their re-opening. I took my youngest boy with me and he helped me pick out several varieties. We got Sweet 100, Red Currant, Brandywine, San Marzano, and Fireworks. Shortly after those went in the ground, there was a thread on a
gardening forum
I belong to that asked about what kind of heirloom tomatoes everyone was growing this year. I had no idea if I had heirloom tomatoes or not so I looked it up and found that my heirlooms were Red Currant (picked by my son), Brandywine, San Marzano, and Fireworks. I had picked these tomatoes willy-nilly as I had no thought for flavor or use beyond knowing that the San Marzano is a paste tomato. I started having day dreams about jars of homeade spaghetti sauce gracing my pantry shelves. I think this is when I started to get a bit out of control. If I saw an heirloom variety while shopping at the nursery (usually for tomato cages for the plants I bought the week before), I would get one. I just couldn't stop myself.
I added more plants until I reached the count as it stands today: two Early Girl, Sweet Millions, Sweet 100, two Roma, four Mortgage Lifter, Yellow Pear, Black Krim, Green Zebra, Pineapple, and Fireworks (the first three on the list are hybrids, the rest are heirlooms). That is fifteen tomato plants for a family of people who don't eat tomatoes other than in the forms of salsa, sauce, or ketchup (the Brandywine I had at one point suffered an early demise before setting any fruit). My boys do sometimes eat cherry or yellow pear tomatoes like I eat M&Ms, but I imagine after a week of having a bowl of them on the counter, they will forget they like them (I wish that would happen with the me and the M&Ms). It always seems to happen that way with my kids. They eat yogurt every day for a week and so I break down and get a bunch of yogurt only to find the rush on yogurt has passed. Darn kids.
So, what to do with all these tomatoes? I guess I will find out when they all start ripening. So far I have been getting Early Girl, Fireworks, Sweet Million and Sweet 100. The first of the Roma and San Marzano are just about ripe and the rest have a while to go.
Today's garden harvest included all the varieties of tomatoes that have started producing ripe fruit, tri-color beans, zuchini, and a couple teeny jalepenos.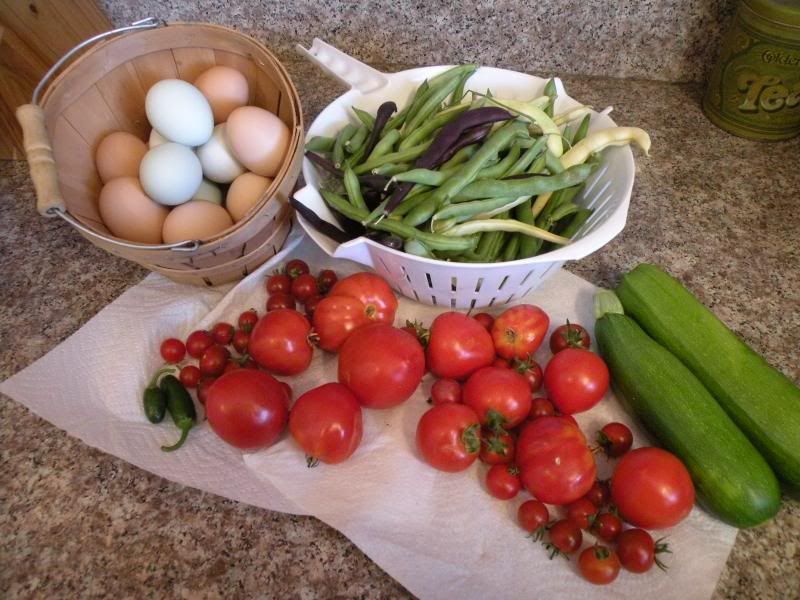 The Sweet Million and Sweet 100 look exactly the same. So far though, the Sweet Million is the only one living up to its name, though the 100 is producing a little bit.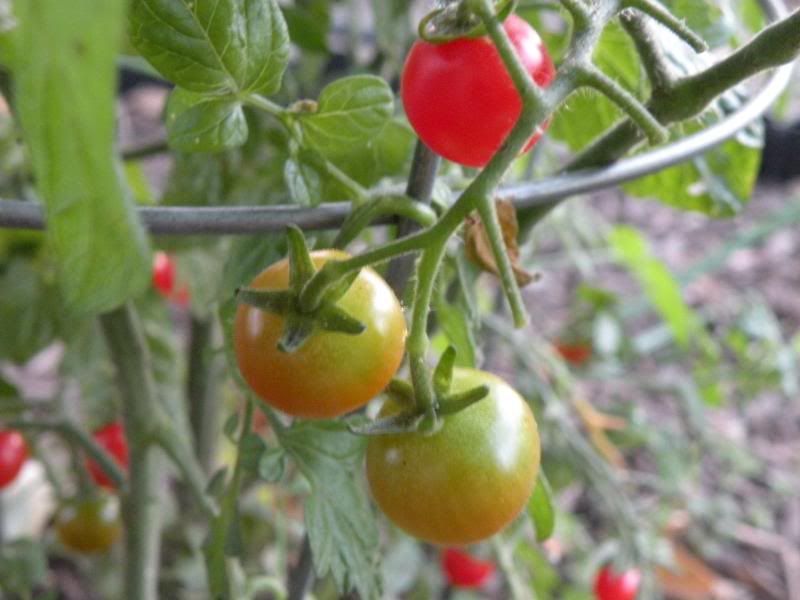 The Fireworks are producing the most out of all the larger tomatoes. I have had a couple people ask how they taste but I really don't know because, well, I just don't care for tomatoes... I will try a piece of one eventually when I have other kinds to compare it to, but for now they make great salsa!
The Roma has quite a bit of fruit on it, but most of them are quite small. These are some of the only decent sized ones, I'm not impressed so far.
The San Marzano is doing much better than the Roma. I'll have to have more next year if I ever hope to put up more than one jar of sauce.
These baby red currant tomatoes are about the size of a pea and won't get any bigger.
The Yellow Pear is doing well, I planted this one specifically for my oldest son since my Mom said he loved them when he was at her house recently.
A few Early Girls. They have lived up to their name being the first of my tomatoes to set fruit.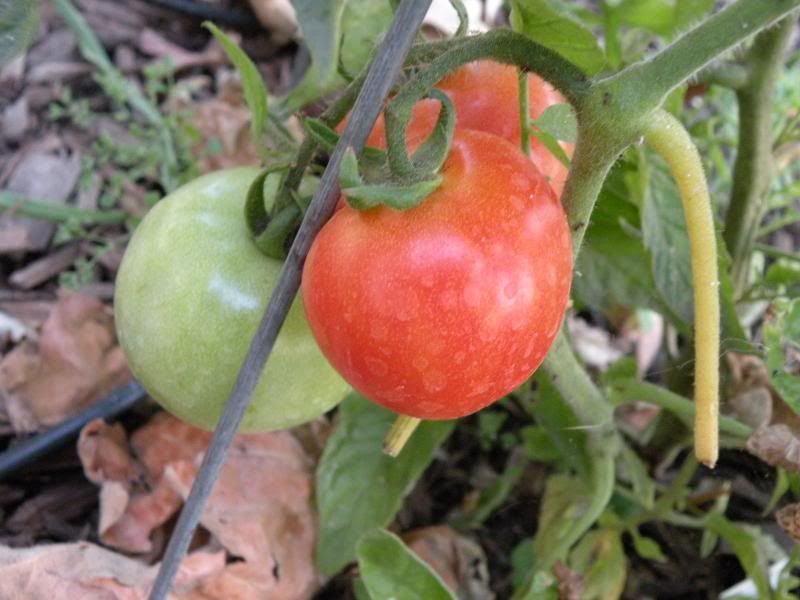 This is a baby Pineapple. Before about a month ago, I had no idea there were so many kinds of tomatoes, let alone one called a Pineapple.
A baby Green Zebra. Since these stay green in color, I'm not sure how I will tell when they are ripe.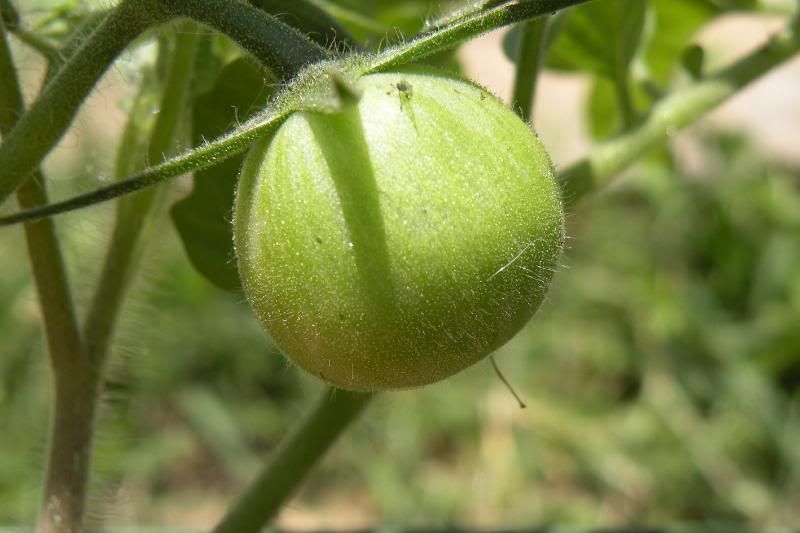 Flowers from the Black Krim. I am really looking forward to this tomato, if nothing else than for the interesting color it will give to anything I make with it.
A Mortgage Lifter flower. I have no idea why I bought these (and in a four-pack no less!), other than I just wanted to be able to say I had another heirloom. It is supposed to be a great slicing tomato, so of course it's a great buy for someone who doesn't eat sliced tomatoes.
I have tried telling myself and others that I bought all these different varieties to see if there might be one I actually like to eat on sandwiches and such. I'm hoping that is true. If not... anyone want some tomatoes?