I decided to try a recipe a while ago that I got off the blog of
someone
on my list and she got it from Taste of Home. I wasn't quite sure what I would think about it, but I wanted to branch out a bit from fruit jams. It took a long time to make but it was worth it! It works very well as a marinade or glaze. I just scoop some out of the jar, melt it in the microwave and pour it over whatever meat I am using. The meat has fantastic flavor and the resulting sauce is excellent.
Caramelized Onion Jam
4 whole garlic bulbs
1 teaspoon canola oil
5 cups chopped sweet onions (1-1/2 pounds)
1/4 cup butter, cubed
3/4 cup cider vinegar
1/2 cup bottled lemon juice
1/4 cup balsamic vinegar
1-1/2 teaspoons ground mustard
1 teaspoon salt
3/4 teaspoon white pepper
1/2 teaspoon ground ginger
1/4 teaspoon ground cloves
6 cups sugar
1 pouch (3 ounces) liquid fruit pectin
Remove papery outer skin from garlic (do not peel or separate cloves). Cut top off garlic bulbs; brush with oil. Wrap each bulb in heavy-duty foil. Bake at 425° for 30-35 minutes or until softened. Cool for 10-15 minutes.
In a Dutch oven, saute onions in butter for 30-40 minutes or until lightly browned. Squeeze softened garlic into pan. Stir in the cider vinegar, lemon juice, balsamic vinegar, mustard, salt, pepper, ginger and cloves. Bring to a rolling boil. Gradually add sugar, stirring constantly. Return to a boil for 3 minutes.
Add pectin; bring to a full rolling boil. Boil for 1 minute, stirring constantly. Remove from the heat; let stand for 3 minutes. Skim off foam. Pour hot mixture into hot jars, leaving 1/4-in. headspace. Adjust caps. Process for 10 minutes in a boiling-water bath.
I don't have a dutch oven that I can use on the stovetop so I just used my regular stock pot. It did have a pretty firm set. I think I will use slightly less pectin the next time I make it as it is a little hard to scoop out of the jar once I have opened it the first time and put it in the fridge.
The house smelled amazing while this was cooking. Especially the four bulbs of roasted garlic. I love garlic!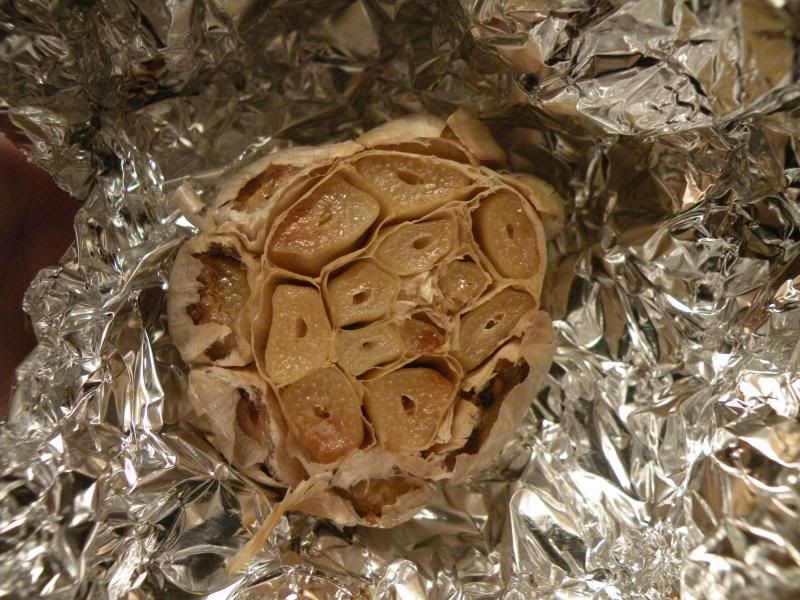 I have a very hard time chopping onions by hand. My eyes are super sensitive to onion to the point that for years, I would only use frozen chopped onion. Now that I am trying to eat more local food, buying frozen onion at the store isn't an option. Using my food processor really helps though.
The onions cooked down and starting to caramelize.
I was worried this would be too sweet, but it really isn't once you cook with it. When I tasted it alone during the cooking, it was very sweet but it does mellow out when you use it.
The finished jars. I will definitely be making this again next year!