I braved the heat (3 steps outside my front door), to pick some tomatoes yesterday. My tomatoes have done quite well so far. I can't say the same for my peppers. A few moments ago I picked the only four jalapenos that were anywhere near big enough. I hope they will be enough for some decent salsa. The zucchini is destined for bread and muffins. The pattypan squash will probably be grilled or sauteed alongside some chicken for dinner tonight. The pathetic onions are some of the only ones I managed to salvage from my sorely neglected back garden. The whole thing got so overgrown that we put about 30 meat chickens in there a couple evenings ago to hopefully eat some of it down (though I suspect they are more likely to just poop on everything really well). I pulled the brussels sprouts before letting the chickens loose so those will be dinner tonight as well.
My new Easter Egger girls finally started laying (well, at least two of them). Their eggs are a very nice medium green color. If they could just figure out to lay them in the nest box instead of the middle of the coop where I practically have to crawl in to get them.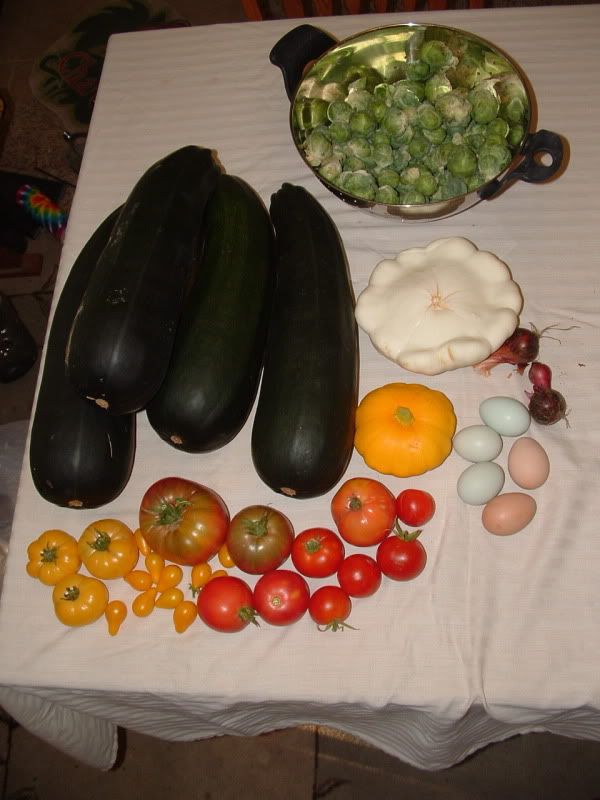 Anyone want some zucchini? We have plenty of extra...