We grew some Mammoth Russian Sunflowers this summer. My youngest really likes sunflowers and very much wanted to see them in the garden. I think part of it may have been due to a book I loved when I was a child and have read to my boys a few times when we have been at my folks house. My parents saved a number of wonderful books that I read when I was young and it's always fun to read them to my own children. This particular book is called
The Sunflower Garden
and is about a young native American girl who wants to plant some sunflower seeds that were given to her by a friend from another tribe. Her father didn't want to be bothered by what his daughter was doing when he was busy raising his sons but let her plant the seeds. She carefully tended her garden and in the end made her father proud of her with her efforts (and by saving her baby brother from a rattlesnake). I like to think that that story had some influence in my youngest's decision to plant sunflowers.
Luckily, they were very easy to grow and required very little room. Here they are before they were in glorious full bloom (please pay no attention to the weeds!).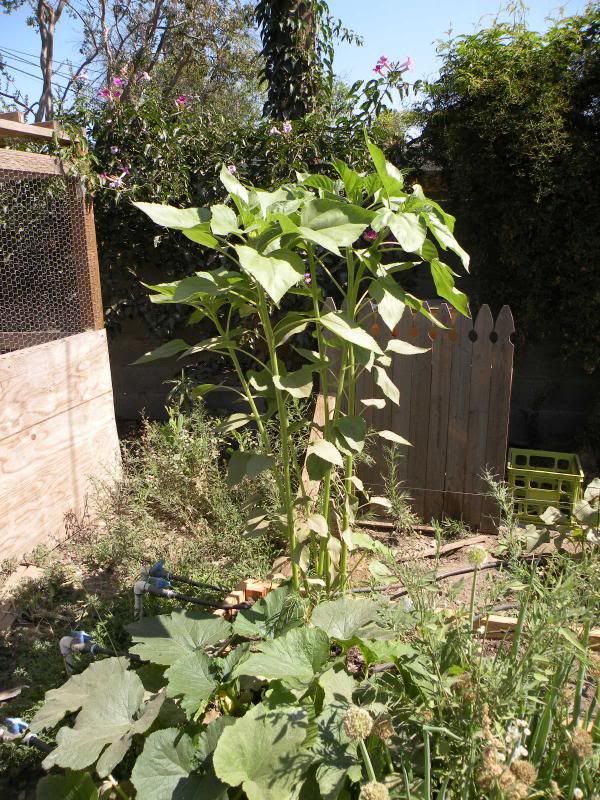 I, of course, neglected to get pictures of them in their glory days; all I have are pre-bloom and post-death.
When I thought about getting sunflower seeds, I thought it would be a fairly simple process. Well, it is simple in that there aren't that many steps, but it is certainly tedious! We cut the heads off the stalks when the petals had died back, the heads were curling backwards, and the backs of the flowers were turning brown. We hung them in our side yard where they were protected from sun and moisture but they got plenty of fresh air to help dry them out further. Then I promptly forgot about them. I don't go into the side yard very often, just to get out my scooter to take the dogs mushing and usually when I go in the get my scooter my mind isn't thinking about gardening. When we hung up the sunflowers, I found some garlic that I had put there earlier in the summer to cure and had also forgotten about. Hmmm, maybe I should go out there now to see what else I left lying around...
Anyway, when I finally remembered the sunflowers, we pulled them down, brushed off the spiderwebs and started removing the seeds. This was more difficult than I had anticipated. First of all, the seeds weren't all that anxious to be removed. They were packed in there pretty tightly! I found that working from the outside in worked fairly well but there were lots of sharp edges and prickly things that kept making the process slightly painful. I enlisted the help of my boys who didn't do too bad but probably got as much chaff as they did seeds in the bucket.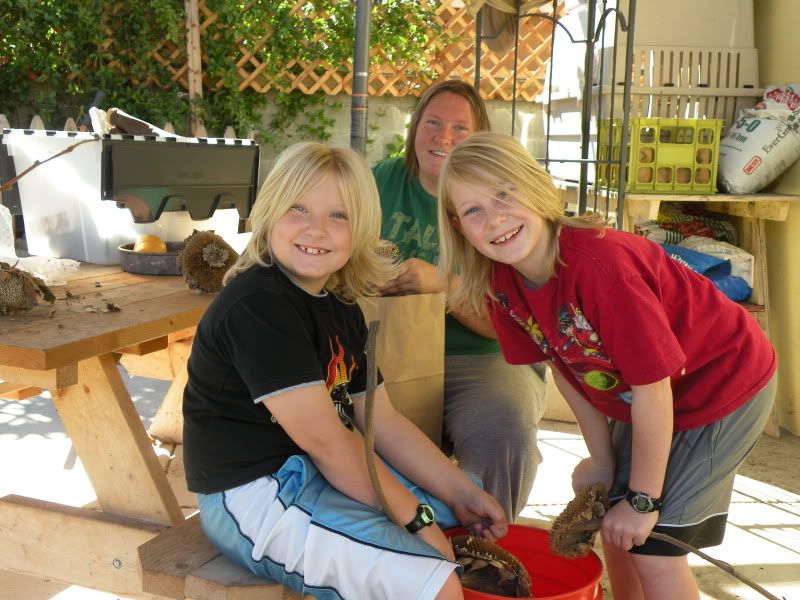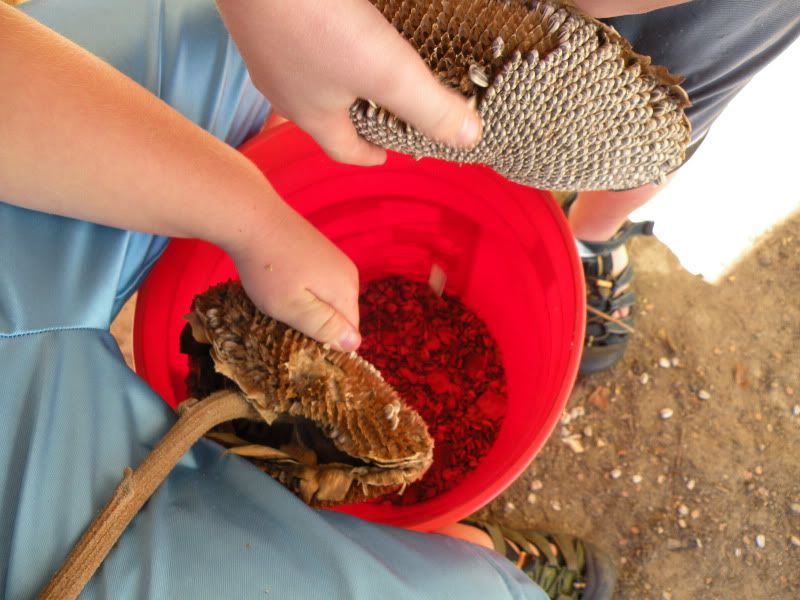 We did get a healthy amount of seeds, but there was a lot of chaff that needed to be winnowed out. I put the bucket in the garage (really play/storage room), and again, forgot about it.
A week or so ago, Dave and the boys were out for the evening and I decided it would be a good idea to tackle the bucket of seeds and just get it done. I had even more effective help this time.
I ended up with the bucket and two bowls in front of me. One bowl for the chaff, and the other for the cleaned seeds. As I took out the chaff, I also checked for seeds that hadn't formed properly and were just empty hulls.
After an hour or so, I had about 1.5 cups of seeds and it didn't even look like I had made a dent into the mess in the bucket. It was not fun and didn't really feel at all rewarding as some chores that aren't fun but have a good result do. I put the bucket with the rest of the seeds and chaff back on the shelf in the garage. It's still there a week later. The seeds are good, but I'm thinking of just tossing what's left into the chicken run and letting the chickens sort it out. I think next year, the heads will be given directly to the chickens as a treat and forgo keeping any for myself.